Robotic Weld Cells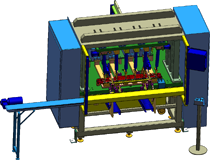 STM can help you integrate robotic welding into your manufacturing processes to produce consistent quality parts faster. By maximizing the use of robotic systems and custom fixturing we can save you time and money. STM focuses on the ease of part loading and unloading, fixture holding as well as applying the latest weld-process technology for quality and speed. We can reprocess robots or help you to choose the best robot available for your needs and budget.
STM offers complete turn key weld cells and weld assembly machines with dual rotating fixtures or complex fixture bases with rotary indexers and positioning turntables for multiple axis weld points.
Click thumbnails below to enlarge.